This week, I celebrated my 12th wedding anniversary (17th, if you count all the years we've been together). Having an anniversary right after Valentine's Day, it's a little anti-climatic, but still another great reason to book reservations at my favorite LA restaurant, The Little Door!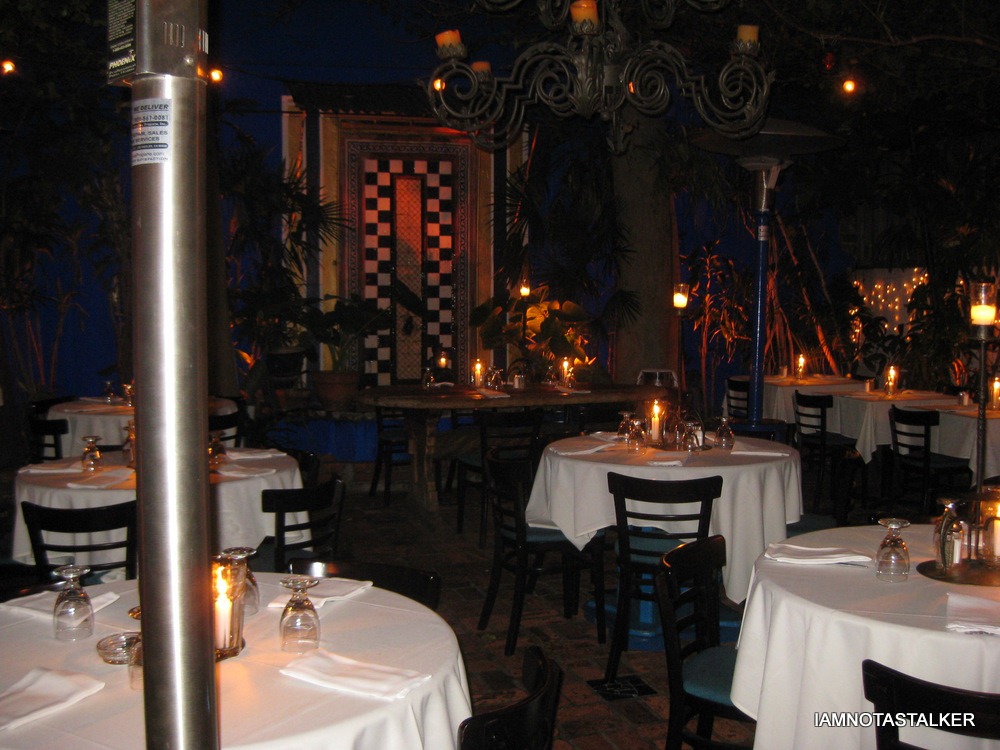 For weeks, I fantasized about what I was going to eat at this French/Mediterranean abode that is as romantic as you can get for a restaurant. If I had to choose an eaterie to live in, this would be it. The decor is just gorgeous, especially at night. The twinkling lights glowing against the inside foliage that grows along the walls and up the ceiling. I feel calm whenever I'm there, except once the bill arrives (!).
The Little Door is super popular among the celeb set; Halle Berry, Courtney Cox, Cindy Crawford have all dined at either The Little Door or its next door brassiere, The Little Next Door, which is even cuter. There, you can dine al fresco and if you squint your eyes while listening to your French accented waiter rattle off the specials, you'll feel right in the center of Paris.
But I don't go to The Little Door for celeb sightings, I go for its French Onion Soup. Or so I thought. Once I took my seat and started studying the menu, I noticed my FOS was not on it. I was sure they'd make it anyway, but when I asked the waiter, Jason, he told me I'd have to go next door for it. Tonight, it was all about Moroccan Chicken Harissa Soup.
Crushed, but not without an appetite, I managed to spoon the Harissa into my mouth instead (which was amazing).
A part of me wishes we'd made reservations at The Little Next Door to enjoy some sweet onion goodness. But next time, I'll know.
For now, I'll make the following recipe to tie me over until my next trip to my French/Mediterranean home away from home.
Ingredients
4 tablespoons butter
1 teaspoon salt
2 large red onions, thinly sliced
2 large sweet onions, thinly sliced
1 (48 fluid ounce) can chicken broth
1 (14 ounce) can beef broth
1/2 cup red wine
1 tablespoon Worcestershire sauce
2 sprigs fresh parsley
1 sprig fresh thyme leaves
1 bay leaf
1 tablespoon balsamic vinegar
salt and freshly ground black pepper to taste
4 thick slices French or Italian bread
8 slices Gruyere or Swiss cheese slices, room temperature
1/2 cup shredded Asiago or mozzarella cheese, room temperature
4 pinches paprika
Directions
Melt butter in a large pot over medium-high heat. Stir in salt, red onions and sweet onions. Cook 35 minutes, stirring frequently, until onions are caramelized and almost syrupy.
Mix chicken broth, beef broth, red wine and Worcestershire sauce into pot. Bundle the parsley, thyme, and bay leaf with twine and place in pot. Simmer over medium heat for 20 minutes, stirring occasionally. Remove and discard the herbs. Reduce the heat to low, mix in vinegar and season with salt and pepper. Cover and keep over low heat to stay hot while you prepare the bread.
Preheat oven broiler. Arrange bread slices on a baking sheet and broil 3 minutes, turning once, until well toasted on both sides. Remove from heat; do not turn off broiler.
Arrange 4 large oven safe bowls or crocks on a rimmed baking sheet. Fill each bowl 2/3 full with hot soup. Top each bowl with 1 slice toasted bread, 2 slice Gruyere cheese and 1/4 of the Asiago or mozzarella cheese. Sprinkle a little bit of paprika over the top of each one.
Broil 5 minutes, or until bubbly and golden brown. As it softens, the cheese will cascade over the sides of the crock and form a beautifully melted crusty seal. Serve immediately!
Source: allrecipes.com